Explore Ios Beaches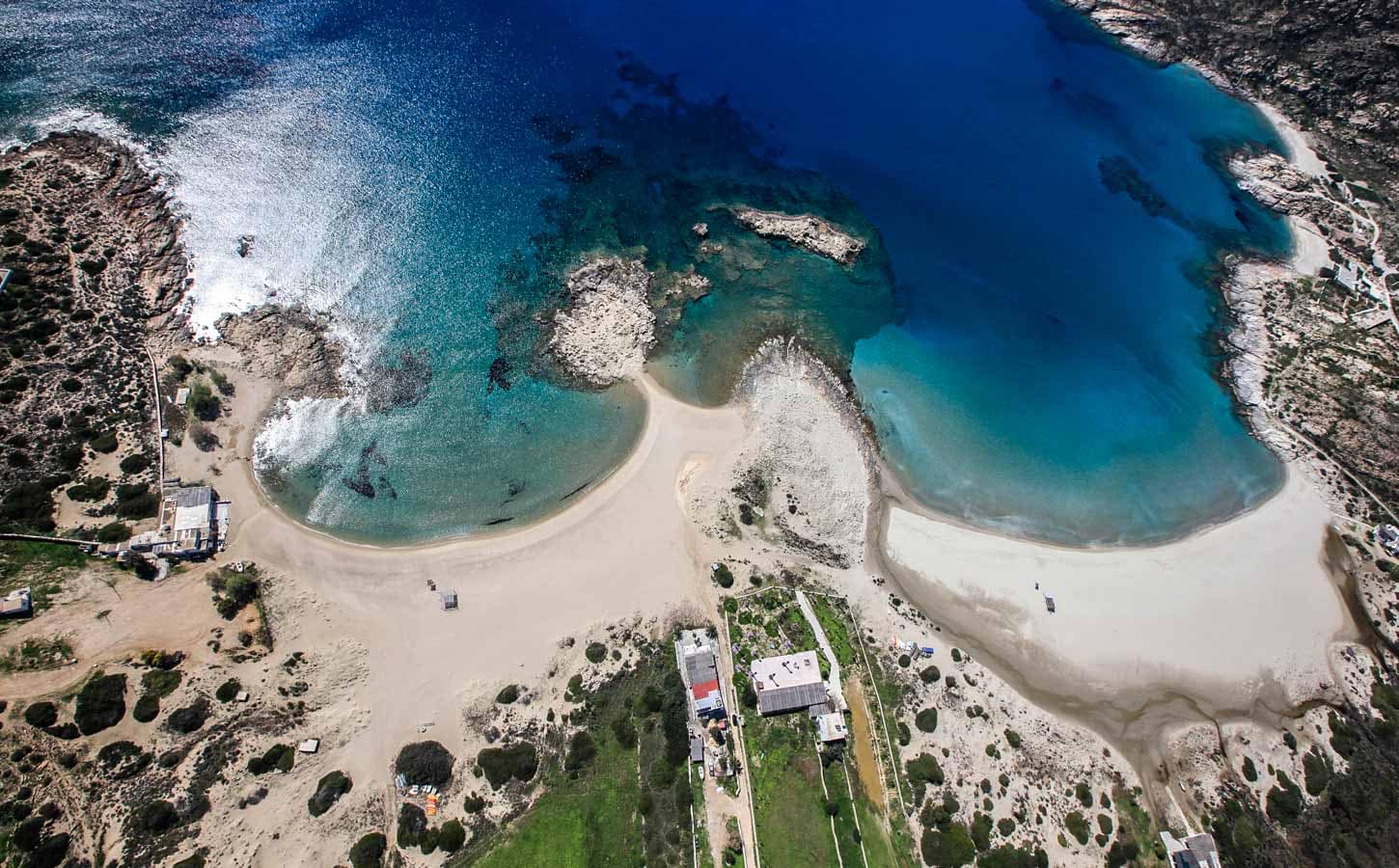 Ios has 87 km of coastline, of which 32 kilometres is sandy beach. It is worth to mention the endless golden sands of Mylopotas, with the deep blue sea, but also with all kind of facilities (water sports, dining, lodging ). One of the best is Manganari, a beach with a spectacular sequence of five bays – golden sandy beaches and above all crystal clear water. This magic place is worth visiting, so you can relive scenes from the "The Big Blue" movie, where it was shot.
On the east of the island, we find the beach of Kalamos. Very quiet and clear waters, this beach is ideal for scuba diving. Next to the beach of Kalamos, are the isolated beaches of Papas and Plakes.
A lot of other beaches, like Kampaki, Plakotos, Petalidi, Neraki, Sapounochoma, Diamoudia, Klima, Pikri Nero, Tzamaria offer many opportunities for trips and unique experiences.
Near Ormos, through a beautiful hiking trail, you can reach the beach of Valmas and next to Chora, the beach of Kolitsani. The fun ends with the a dip in the sunset colour waters beach of Koumbara.
All these beaches are only a small sample, there are many secluded beaches that can be reached by sea. Learn about sea trips made daily by boat from the port of Ios and enjoy short walks on the island, for example to Magganari beach or Pikri Nero beach.
Ios has been awarded 4 blue flags ( when in the whole 24 islands of Cyclades there are only 22 flags), so the sea lovers can safely enjoy the golden beaches and the crystal clear waters of our island. The blue flag is an international symbol of quality awarded when certain criteria, related to the quality of bathing water, environmental information, environmental management, safety, salvage, emergency services and facilities, are met. As a hotel, we have partnered with WWF Hellas to actively support their marine litter monitoring research and beach clean initiative "Adopt A Beach". We ask our guests to help us keep the beaches of Ios clean of litter.
In the more organised beaches, awaits you amazing water sports such as canoeing, windsurfing, cycling, tubes, water skiing and more. There is also a scuba diving school where you can rent the required equipment. The rich depths of the island can introduce you to the majestic beauty, waiting to be explored.
Petra Holiday Village is located right next to Gialos Beach, which offers people with mobility issues the opportunity to enjoy the sea autonomously, without restrictions, using the SeaAccess® II mechanism.