Beachside Café Bar Ios
Please note that from May 20 – June 1, our café bar will be open for breakfast only from 8.30am – 10.30am. We will be fully open on June 1st.
The café-bar at Petra is open daily from early morning until midnight offering you traditional-style breakfast, lunch, dinner and drinks. Petra Café Bar Ios, with the small amphitheater (read about our traditional Cycladic architecture), has stunning views of Chora and the beautiful church Agia Irini. It is the square or the ''meeting point'' of Petra village, just by Gialos Beach.
Petra Café Bar Ios is open for everyone so even if you are not staying with us, don't miss out on some breakfast or a typical Greek lunch before heading off to the beach or come by for some home-made food and drinks, all this just a few meters away from Gialos Beach.
It is the ideal location to gather with friends and family and to host birthday parties, anniversaries or other celebrations.
Breakfast
Start your day with a wholesome breakfast of Greek authentic produce.
Our typical breakfast, served 8:30am to 10:30am includes;
– Coffee of your choice/ Tea
– Homemade pie
– Bread & Croissant
– Jam
– Yoghurt & local Ios honey
– Local sweet
– Fresh orange juice
– Fresh fruit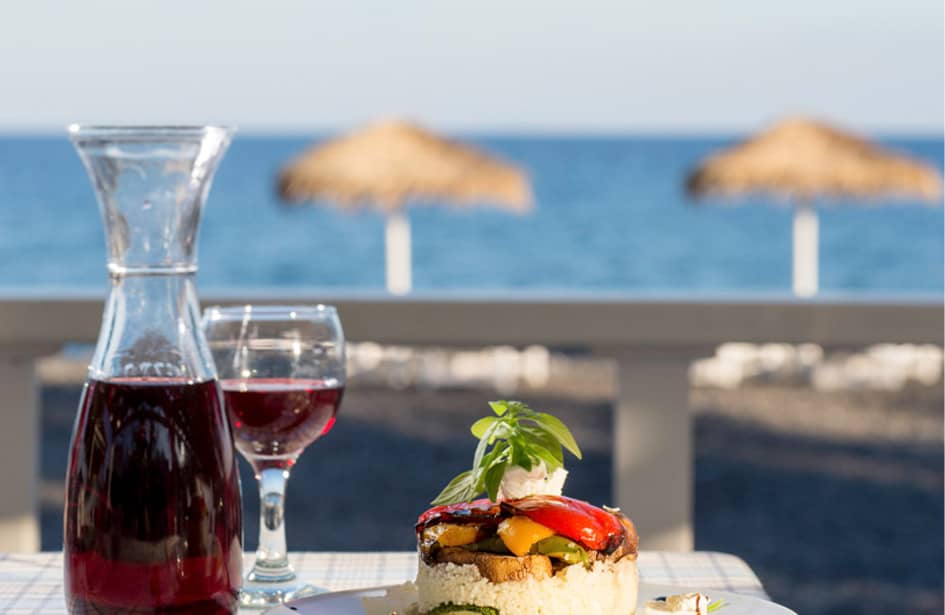 Snack
After a nice swim on the beach, enjoy fresh juices, coffees, drinks, fresh snacks and sweets.
Snacks includes;
– Ham / turkey & cheese toast
– Local free-range eggs with bacon
– Scrambled egg with cherry tomatoes
& xinotiri che
 – Petra pies
      Skotíri cheese & spinach/Sundried tomato & xinotiri cheese/ Vegetables & chilli
    – Cod croquettes
-Local vegetable quiche lorraine
Sweets includes;
– Yogurt with fruit & local ios honey
– Fresh fruit salad
– Ice cream (vanilla, chocolate, strawberry)
– Petra panacotta
Lunch
From 1.30pm, enjoy our lunch menu of a home-made daily dish & healthy salads.
Our salad menu includes;
– Horiatiki (cherry tomatoes, cucumber, pepper,
onion, capers, olives, xinotiri cheese)
– Dakos (rusk, tomato, xinotiri cheese, capers )
– Petra salad (green salad, bacon, kefalotyri,
capers, dried tomato, croutons,
honey vinaigrette)
Special Occasions
Are you looking for an intimate area to throw a private party away from other bars & restaurants in Ios? Over the years we have hosted birthday parties, anniversaries and other celebrations. You don't even need to have a particular reason to throw a party. Just gather your friends and reserve Petra Café Bar Ios. Leave the rest to us.
Of course, we welcome walk-ins but you can also call us to reserve a table +302286091409